Funny Swing Dancer Shirts
Do you get the jokes?
If you're hep to the jive, then you surely do. Why not find out if your friends do, too?
Here's the story. I made these shirts on a lark -- for me and my friends to enjoy. The shirts proved to be tremendously popular, though. Within days, dozens of people were writing to me, asking if they could have one of the shirts. I was happy to oblige.
To keep the costs down though, I had to get them printed in bulk. I'd very much like to unload a few of them... and yes, I do get some pleasure from seeing these things wend their way across the country... and sometimes beyond.
So now I'm selling them off... for cheap.
Each shirt costs only $15 each, with discounts available for larger orders. Shirts are available in sizes S, M, L, and XL. A few XXLs are available at $17.50 each.
I keep the S&H costs low as well... just barely above the price of postage.
One shirt: $4.50
Two shirts: $7.50
Three: $12.00
Four to six: $14.50 (yes, a steep discount)
Seven or more? Talk to me! We'll work out a price.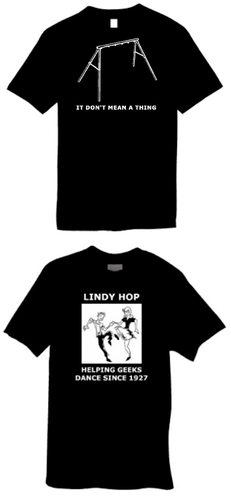 What about a custom job?
Some people really like these shirt designs and ask if they can get some custom versions made. I have to get these made in bulk, so I can't entertain custom requests very often. They're not out of the question though, and for the right price, this can be arranged. Shoot me a message and let's talk!
How to Place an Order
I don't have a fancy online ordering system... not yet. Remember, this is just a homegrown hobby affair at this point. I'm working on a better system, but for now, if you'd like to place an order, just shoot me an e-mail message. (Don't forget to remove the "NOSPAM" text from that e-mail address!)
I accept checks and PayPal.